Welcome to the February edition of the
Simply Living Blog Carnival
- New Beginnings cohosted by Mandy at
Living Peacefully with Children
, Laura at
Authentic Parenting
, Jennifer at
True Confessions of a Real Mommy
, and Joella at
Fine and Fair
. This month's topic, our writers consider where they are with their New Year's Resolutions or new ventures of 2013. Please check out the links to posts by our other participants at the end of this post.
***
When I first thought of what to write for this post, I had so many ideas. Our family can define "New beginnings" in so many ways that I've lost count. Since the new year, the babies and I have been able to start with a routine. Not necessarily the EASY routine that so many veteran moms rave about, but it's developed partly out of our natural rhythms and partly out of just being in survival mode, so I know it's what works best for us.


They say consistency is key, so I've been trying to keep the routine in place but still be flexible with it--that doesn't mean I always accomplish it. The best example I can think of is the bedtime routine. We take the babies upstairs to their room about 30 minutes before I want them to go to bed. We "unwind," I play some relaxing music and give them each a massage. We usually read a story and then I bring the babies into our room where they sleep in a crib next to our bed.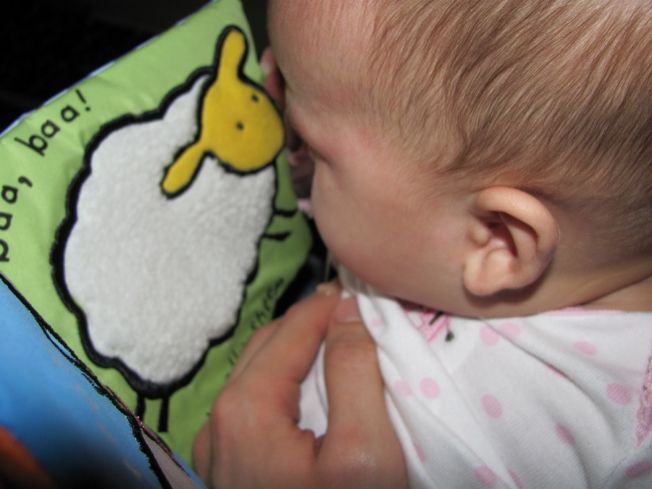 Cupcake is a good sport and might protest a little, but will usually fall asleep quickly. Astro is another story--he fights sleep big time. The other day he actually fell asleep mid-cry, then jerked himself awake again. I stay with him and nurse or rock to sleep. On the good nights, he might wake himself up but will go back to sleep for a few hours. On the better nights, he'll just sleep until the next feeding. On the worse nights, I'm nursing and rocking for a really, really long time.
One night I realized, tomorrow is just another day. Ok, you can look at that two ways. One is the frazzled mom in despair way. The other way is just to think of it as another chance. If it didn't go right today, I can try again tomorrow. It's cheesy maybe, and I've heard it so many times before, but I've never actually believed it until the babies. They won't hold a bad day against me, and tomorrow might go perfectly smooth.
Then last week, I read this heartbreaking story from Julie at The Progressive Parent. Her 15 month old boy Patrick died suddenly--no warning--in his sleep over the weekend. I was reading this on my phone in the dark next to my sleeping husband and babies and it just struck me. I can't fathom waking up without one of my little babies; it's the absolute worst thing I think that could happen. I feel so much for Julie--please visit her page, read her story and learn about SIDS (SUCD).
My babies have taught me that tomorrow is another chance to begin again if today didn't go off right. Patrick's story is a reminder that tomorrow is never a given.
***