Welcome to the Festival of Food Carnival. In celebration of Valentine's Day, we're sharing recipe ideas for "love foods" or foods to share with loved ones. Hosted by Diary of a First Child and Hybrid Rasta Mama, you're welcome to join us next time, or if you have a previously published recipe you'd like to share, add it to the linky below.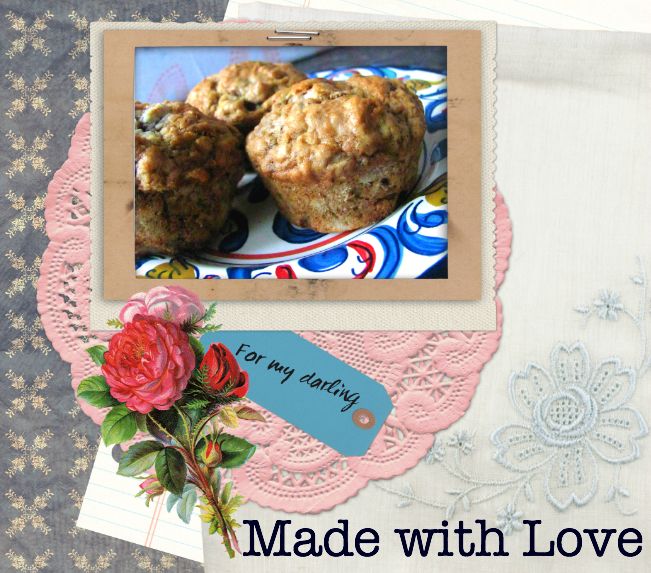 My husband's not keen on sweets (what's his problem, right?!) but he does have one weakness of mine: these scrumptious banana-carrot muffins. I made these for his birthday when we were dating and ever since, they have been our go-to special treat. When he lived in California and I lived in Tulsa, I sent him muffins. I even made up some baggies of the mix and took them with me when I went to
visit him in Cape Town
before we were married. In our brief stay in Angola, they were a little piece of familiarity when everything else was uncertain, and during our
long-distance pregnancy
, it became tradition for me to greet him at the airport with a freshly baked muffin.
The recipe has evolved over time and is slightly different from the original muffins I made for EJ, but what I love about it is the versatility. Use coconut oil or butter, whatever nuts you fancy, or leave them out! It would also be great with chocolate or carob chips, or even your favorite berries dusted in flour. Just make sure the bananas are really, really ripe--almost black. To ripen up a bunch, I put bananas in a paper bag and seal it (some newspaper would also do the job); they should be ready in a day or two.
Banana-Carrot Muffins
1 cup mashed banana (about 3 medium)
1/2 cup raw cane sugar
1/2 cup coconut oil, melted
2 eggs
2 cups whole wheat flour
1/2 teaspoon cinnamon
1/2 teaspoons baking powder
1 teaspoon baking soda
1/4 tsp. salt
1/2 cup chopped nuts (I used walnut)
1 cup grated carrots
1. Preheat oven to 325 and grease the muffin tin.
2. Mix oil and sugar together in large bowl.
3. Beat in eggs.
4. Mash bananas in small bowl.
5. Mix flour, soda, powder, salt and cinnamon in separate bowl.
6. Blend in flour mixture alternately with bananas.
7. Stir in carrots and nuts, pour into tin.
8. Bake 35 minutes.
Cool 10 minutes in the tin, then turn out onto a rack and cool.
Photo Resources Used:
Clip art via Pugly Pixel
Frame via Maybe Mej
Paper via City of Blackbirds
***********
Please take a moment to visit the blogs of our other Festival of Food participants.
The links in this list will be live by the end of the day, as participants are all in different time zones.